The Excelsior German Center invites all members and friends to the annual Maifest Sunday May 31 from noon to 4pm. The day will be filled with music and dance. Don Sommerfeld will provide music for your dancing pleasure.  The Golden Gate Bavarian Dancers will perform the Maibaum (Maypole) Tanz and other traditional German dances. Come and enjoy a German meal consisting of either Kassler (smoked porkchop) or Nürnberger Würstchen (sausage). Each meal is served with potato salad and sauerkraut.  Trumer Pils beer will be available for purchase as will other beverages.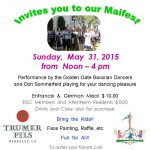 For the kids there will be face painting and story telling.
Raffle tickets will be sold to raise money for the Altenheim Gardens.
The Maifest will be in the Prior Hall and Gardens of the Altenheim.
Gates at 1699 Excelsior Avenue, Oakland, CA (enter Gate #3) and 1720 MacArthur Boulevard will be open.
For more information, please contact
Marie at 925-372-6665 marie@excelsiorcenter.org or
Hannelore at 510-483-2573 hannelore@excelsiorcenter.org or
Call the EGC office at 510-530-4013.