Language Culture and Heritage
The Excelsior German Center has developed many programs to help serve those around us. While you enhance your cultural involvement with the German community, find out how you can become involved and contribute to a better world —right in your own back yard.
German Language School
The Excelsior German Center (EGC) is home to the German School of the East Bay (GSEB), a nonprofit organization, serving the East Bay since 1962. The GSEB offers high quality classes with a low tuition. It is located on the grounds of the historic Altenheim–1699 Excelsior Avenue, and is easily accessible from all areas of the East Bay. Every Saturday we conduct classes at the Excelsior German Center for both children and adults interested in expanding their use of the German language. This is an engaging way to connect with relatives and friends in their native tongue. For more information visit the schools website www.gseb-school.org
German Library and Resource Center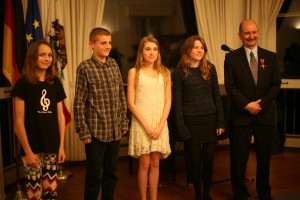 The Excelsior German Center houses a number of German books, tapes and other resource materials for the community. The Library is open every Saturday during school sessions and members may check out a selection of designated materials. Library Hours: Open to the public from 9:30am to noon, GSEB students only from 1:00 pm to 3:00 pm.
Get Involved with the Program Development Committee. The Excelsior German Center invites you to become a part of the Program Development Committee to help in establishing new enrichment programs for you. If you are interested in joining please contact us at programdevelopment@excelsiorcenter.org
The Excelsior German Center hosts a German radio show Sunday mornings on AM1450, KEST from 9-11 am. Your hosts, Marie Hoffmann and Anthony Schaller, provide a mix of songs from German artists ranging in genres from Classical, Operetta, Schlager and Modern music.  The 2 hours of entertainment includes a Community Calendar and news direct from Germany.  For those of you who cannot tune in via AM radio, the show is also available under the channel: Excelsiorradio on www.ustream.tv. Requests as well as interested advertisers may contact the program hosts.
My two children have been attending the Excelsior German Language School for the last year and it is a great treasure that they are now beginning to interact with their German-speaking grandparents.
Janet Schultz